Jordemm
Breeders of Quality Long-Haired Dachshunds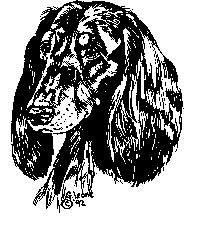 Jordemm is dedicated to the breeding of structurally sound, even tempered Standard Long-Haired Dachshunds which are healthy and free from genetic defects. Our Dachshund pups are home-raised -- they spend their formative puppyhood in the hub of our house (the kitchen), and are used to normal busy household noises, such as telephones, doorbells, kids and people coming and going. We are true Dachshund hobby-breeders -- we breed for our own show purposes and network with other Dachshund breeders of quality. As a result, while we occasionally have puppies, we know where healthy, genetically sound Dachshund pups are available.
---
What is a Dachshund

, what makes them so different from other breeds and what is it like living with a Dachshund (or 2).

Dachshund Breeders you can contact.

Puppy availability for those who feel that life is meaningless without a Dachshund.

Photo Gallery of some of our Dachshunds for those who requested more pictures.

Links to other dog-related sites.

Articles on Pet Nutrition which are quite interesting.

---

Copyright ©1996 through 2009 by Howard Krakower
Last updated: August 2, 2009