Yofi
Ch. Dacherst's Renegade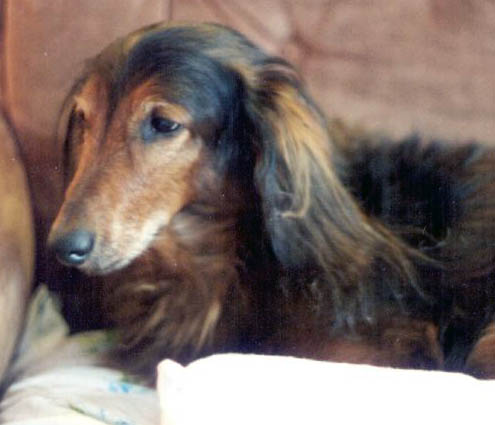 March 27, 1984 - October 14, 2000

Yofi chose us as his family in July 1984 when we visited Barb Simonds. He immediately became our teacher, friend and bedwarmer. As our children were born, Yofi was their companion, their friend and their teacher. He was ever vigilant that no harm would come to his family. We learned, as well, that we could trust Yofi's instincts when dealing with other people -- if he walked away from them, we learned it was in our best interests to do the same, as Yofi was a master at reading "body language".
Wherever we went, Yofi went too. How we remember the camping trips with Yofi - and how he huddled under the covers clinging to Rosie when we were in a small trailer at a dog show in Kingston during a thunder storm. We remember the visit to friends who had 3 small children, and how exhausted Yofi was trying to keep tab on our 2 and our friend's 3 children. That's when we discovered that Yofi didn't like pickled beets. We had had a rooast chicken dinner and we gave Yofi the scrapings off the plates. While he was eating, every once in a while he would raise his head and spit out a picked beet.
A few years later, when Dasher joined us, Yofi immediately became the "henpecked" male. And whenever there was a litter of puppies, Yofi delighted in playing with them.
When Yofi was 4 years old, he started having convulsions which were diagnosed as idiopathic epilepsy. However, a number of other factors came into play -- if it was epilepsy, why did he have hair coat loss, nails breaking and not regrowing and the premature atrophy of the iris muscles of the eyes. At that time, breeder friends and veterinarians didn't give Yofi much more time. Then I came across an article re: ethoxyquin, and decided to cook my own dog food. The convusions abated and we weaned the dog off his medication. We then switched to the natural type dog foods, and after some time we had the occasional convulsion. I then came across two articles which provided the impetus to cooking my own dog food again. Yofi proved them all wrong; he lived to be 17 years old.
Towards the end, Yofi became very frail; his immune system packed it in and Yofi peacefully crossed over the rainbow bridge. He was laid to rest beside Maggie, with whom he loved to play, in a grove of trees on a hillside overlooking the Rideau River at Barb & Charlie Simonds' place. There he joined Ch. Dachert's Beau Geste ("Bozo"), his father, and Ch. Dacherts's Prairie Crocus ("Perky"), his mother.
---

Copyright ©2004 by Howard Krakower
Last updated: July 18, 2004